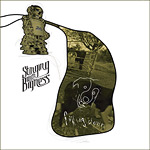 Click the above image for a larger 500px version (iTunes-friendly album artwork).
Ballagroove Records is very pleased to announce the release of the debut album from Stinging With Bigness: Falling Down. Released on April 16th 2004
Falling Down contains the following tracks:
For My Own
As She Said To Me
Falling Down (4,897kB)
Believe It Now
Hanging Around
Little M
Let Daylight In
Traveller
For My Smiling (Buggane Remix) (4,786kB)
Traveller (Sirius Mix)
The band list their influences as The Charlatans, Snow Patrol, Doves, Manic Street Preachers, Supergrass, James Taylor Quartet and Jimmy Smith, so if thats your 'cup of tea' you're in for a treat!
Available for GBP£9 exclusively from Black and Blue, Castle Street, Douglas, Isle of Man (the old B.S.Ex. building) – tel: (+44) (0)7624 472889, or by e-mailing us at sales@ballagroove.com
---
(temp additional notes – will remove when "Artists/Bands" section is up and running)
Stinging With Bigness consists of Daniel Christian (vocals & guitar), Stuart Dunn (keyboards), Stephen Parry (guitars), John Sansom (bass) and Peter Callin (drums).