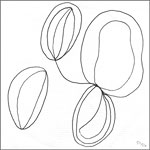 Click the above image for a larger 500px version (iTunes-friendly album artwork).
Ballagroove Records is very pleased to announce Safetyword's newest release: Shoddy Gods. It's out now, and is a special ultra-limited edition – the first on Ballagroove's new "white label" series – so you better get it quick as there are only 50 released!

&
Shoddy Gods contains the following tracks:
Wooden Tongue Depressor
White Plastic Agitator
Flaming Hoop
Flattery Will Get You Nowhere (a flat battery will get you nowhere)
Exclusive – complete sample track! MP3 download: Wooden Tongue Depressor (1,905KB)
We're very excited about this one; Safetyword once again prove what talented lads they are with four luscious tracks of distinctive & quirky indie goodness which'll leave you lusting for more 🙂
Available for £4 GBP exclusively from Black and Blue, Castle Street, Douglas, Isle of Man (the old B.S.Ex. building) – tel: (+44) (0)7624 472889, by e-mailing us at sales@ballagroove.com, or from the band themselves at www.safetyword.com
If you'd like more info on what Safetyword are up to please check out their forum, or subscribe to the Safetyword mailing list
---
(temp additional notes – will remove when "Artists/Bands" section is up and running)
Safetyword consists of Rob Smith (vocals & guitar), Danny Bramall (bass), and Jan Davey (drums).