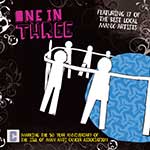 The Isle of Man Anti-Cancer Association is proud to announce the launch of its brand new '1 in 3' CD as part of its 50th anniversary celebrations. For the first time on one CD, the cream of Manx music has come together in a collection that showcases the startling diversity of home-grown musical talent in the Isle of Man.
The compilation CD, which contains 17 tracks from Manx artists, will be available on sale from shops Island-wide from Friday May 1st and boasts tracks from Katherine Crowe, Christine Collister, Back Door Slam, Über Room, Truman Falls, Anna Goldsmith and many more.
More information and exclusive track samples can be found at http://www.myspace.com/onein3 and the Press Release can be found here.
For electronic copies of album artwork or music samples, email – Carole Cowin.
Track listing:
Broken Walls – Maldune
Self Healing – Anna Goldsmith
Spring – Moot
Neighbourhood – Über Room
The Shore – Christy D
The World According To Jack – Jeceris
Angst – Porn Monkey
Come Home (Live) – Back Door Slam
Mountain – Cocahiba
Dreamless Nights – On A Friday
Next To Me – Katherine Crowe
Dip Into The Well – Rhysical Pheck (Watch it on Youtube)
How Do We Go On? – Suspect Package
Love You (Bubble Mix) – Clara Barker
Temporize – Planes Over Paris
Summer Song – Truman Falls
Waiting For My Prayer – Christine Collister
CD retailers:
7th Wave, Strand Road, Port Erin – 836366
Celtic Gold, Michael Street, Peel – 843737
Harbour Home & Living, East Quay, Peel – 848411
Lexicon Bookshop, Strand Street, Douglas – 673004
Shakti Man, Parliament Street, Ramsey – 815060
St Paul's Bookshop, St Paul's Square, Ramsey – 813733
Trafalger Hotel, South Quay, Douglas – 618131
Buy Online:
Ballagroove Records Online Shop
Digital sales: